Film Connection mentors Help Student Do Feature Film and Talk Social Media & Promotion
Latest posts by Liya Swift
(see all)
LA-based Film Connection mentors Bayou Bennett and Daniel Lir of The Dream Team (Coldplay, Bella Hadid, Mark Ruffalo) are known for going the distance for their externs. Along with providing stellar real world education and connection-building opportunities, they've helped our students prep for major job interviews (and get hired), invited them to join the crew on overseas film projects, and even achieve their filmmaking goals in record time.

From the first time Daniel and Bayou met Film Connection student Arronn Lepperman, they could see just how driven he was to do the work it would take to make his vision a reality. The filmmaking duo are big believers in staying positive and saying yes to challenges, so when Arronn shared his dream of directing his own feature, albeit on a very short shoestring budget, the powerhouse mentors stepped up to the plate and offered to advise him and share their input, guidance, and expertise—remotely—every critical step of the way.

So what led up to Arron's decision to shoot his film, Into the Haunt, in Boise, Idaho, nearly 900 miles away?
Bayou: "When Arronn came to us we asked him 'What do you really want to do?' And he said, 'I want to direct.' And we're like, 'Okay, great. What resources do you have?' And he told us, 'Oh, I have access to this really cool Halloween park but it's in Boise, Idaho.' I said, 'Okay, great. Go talk to them and see if you can shoot there in exchange for promoting the place.' The next thing you know, we're guiding him on a feature film process. So we helped him with the script to the casting to all the ways from…

Daniel: "…all the equipment, to guiding him in how to produce a professional product. Not to just get a movie done, but how to get it done with good sound recording, with a great cinematographer, with the right team surrounding him, all the technical parts of it, because he's so enthusiastic he just wanted to start shooting. But he didn't really have the technical knowledge to make it a reality."

Bayou: "We've done this for so many years, so we were able to help him with everything from the interview process, to finding the right team, and to finally, knowing how to handle the team because when you're in the heat of it, things come up, and it's important how you communicate to everyone and make sure that the shoot is running smooth, and that if there's a problem, people are communicating that to you."

You also helped Arronn nip some potential sound issues before they became a hairy, expensive mess.

Bayou: "I told him, 'Okay, you've got to Facetime with me so that we can literally see your locations.' We worked out some sound issues, because the haunted park actually had a few sound issues. Basically, if anyone walked by certain things when they were turned on, they would make certain noises. So we handled that.

It was just a great process…Now he's in post and he's working with the cinematographer who's also an editor, so he's literally sitting with him every day and editing, and I've been working with him on the next steps, telling him, 'Okay, now you've made this feature film. The next step is film festivals.' So we've been guiding him to the right film festivals to submit to, and then not only that, but how to get his social media and get a website made and get promotion out there, just kind of on a grassroots level.

And so he's been really embracing that, and that's why I said, 'Take a ton of behind the scenes photos of the whole process. You need a photographer there, we need to make a poster.' So we've been guiding him through the whole process. What's really unique about Arronn is that he listens and he applies what we suggest, and it's hard, the advice that we're giving is hard work learned through many years of experience. I just am really impressed that he is such a go-getter…He's just incredible." Learn more about Arronn's experience the Day in the Life of Our Students section below.

Have any recent or upcoming projects you'd like to tell us about?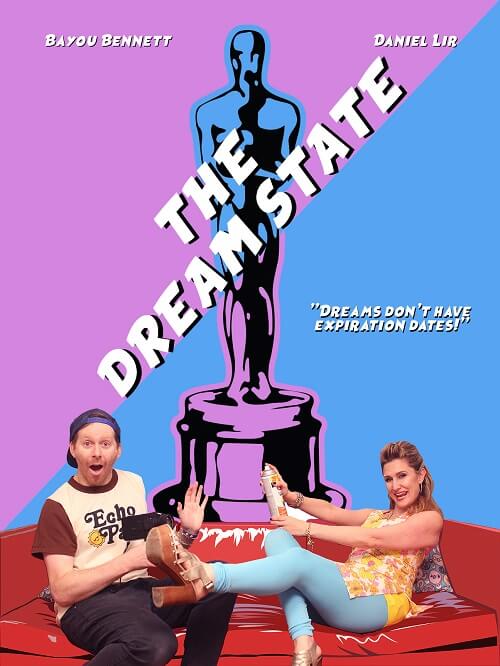 Daniel: We just finished a really inspiring music video for one of Billboard Magazine's 2018 Artists to Watch…[A couple years ago] when we spent a month in the Philippines, shooting some documentaries out there, we discovered that there are whole families living in the cemeteries of Manila. They have their whole bedroom, kitchen, everything there. Where people go to die, they live. So it was just a fascinating visual world, and we really wanted to create a story that brought awareness to this and helped the people there. So we created a fiction humanitarian story. So we're going to go film that in January…

Bayou: And we just got back from New York where we filmed a makeup series for this really cool makeup brand called Winky Lux. So we're just completing that as well. And we're doing our own show The Dream State. It's an infomative and inspirational show for beginners who want to break into the industry and for those who want to revitalize their sense of purpose.

You're both experts at creating a stir and getting the word out about your various films, music videos, and documentaries via social media. What can upcoming filmmakers do to get their projects noticed?

Bayou: "What I was telling Arronn to do the whole time was to have someone on-set sharing and updating your public, your fans. Because these days your independent film is either going to end up on iTunes, Amazon, or Hulu, and then eventually, possibly Netflix. So, what you need to do is get your fans all excited for it, because if you get enough 'pre-downloads' then you get seen more, because they [I-Tunes] puts your film in front of more [of the] public when you do that.

So for me, it's not only important to promote the current project that you're doing but, this is another tip that I always used with my externs, to promote so that other people could be like, 'Hey, I want to hire this guy or girl for my film. It looks like they're doing a really good job and our mutual friends are doing a feature film right now, and she's doing a lot of Instagram stories.' So, those who are watching on Instagram are seeing tons of behind the scenes shots that are up for just 24 hours, then they're gone, so that really creates lots of buzz and interest."

Daniel: "Remember, good works don't speak for themselves… If you talk to any distributor, they'll tell you that really good pictures taken on the set of your movie can really help them do their job in getting the film out there.

Distributors release what's called 'first look' images, which are images that immediately create an idea in the public of what the film is, and they're chosen very specifically. Sometimes they're one photo, sometimes they're a series, but those are the first photos that are released to the public that help the public create an idea of what this film is. So, it's important to have a really good set photographer, not only for behind the scenes, but for any specialty photos, meaning stuff done on a white background, of the actors or anything that could become a poster. If you have a great photo, your film can get publicized in a magazine or a newspaper, and it can really get you press."


Learn more about Film Connection's programs and workshops.



[/read-more]