Film Connection grad Arronn Lepperman Gets Mentored, Shoots Feature in 16 Days!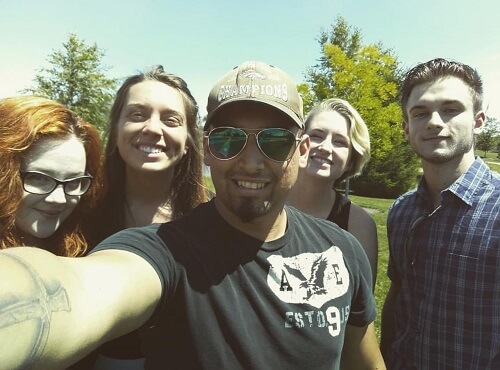 We recently spoke with recent Film Connection graduate Arronn Lepperman, who after years of thinking about enrolling in our Film Production & Editing program, finally took the plunge and got mentored by Film Connection mentors Bayou Bennett and Daniel Lir of The Dream Team (Los Angeles, CA). The result? Arronn graduated with the filmmaking knowhow he needed to write, direct, and produce his own feature film, Into the Haunt, mostly shot at a popular haunted attraction park in Caldwell, Idaho.
[break side="left"] What led you to Film Connection in the first place?
"I started looking into Film Connection when I was just 17 years old and it just seemed like a great program, very unique and very hands-on, and it was just a way of learning that I feel like I could really excel in… For years would just dream and go onto the website and just look at all the different reviews and testimonies and stuff and just really thought it was something I wanted to do."
[break] What happened once you made the call?
"It was just a dream come true. So I met with Matthew Johnson [Director of Admissions] over the phone. He gave me the rundown of meeting with Daniel and Bayou, that they would interview me and see if I would be a good fit to take the program [with them], and if I would be accepted. Then, I met with Daniel and Bayou. It was really great…It just seemed that we clicked. So that's where it all began, and I started working with them." [break] What did Bayou and Daniel ask you during the interview?
[break side="left"] "They basically asked what I wanted out of this and what my hopes and dreams were. I told them that my goal was just to be a filmmaker. Kind of every aspect from the beginning to the end of making a film, I just wanted to do that and just tell stories, tell my stories that I've managed to conjure up in my 25 short years of life. So that was basically it, and I think things just clicked between us. We kind of shared this positive energy and uplifting type of demeanor about us that we just knew it would work between us. And we knew we were going to have fun… (Article on Arronn's one-on-one training with Film Connection mentor Ron Peterson.)
Bayou was very, very intelligent and very good at what she does. She used to teach at New York University and she was very gifted working with the students. Daniel was more of the one-two mentor, [who would concentrate on] the actual program, stuff like that."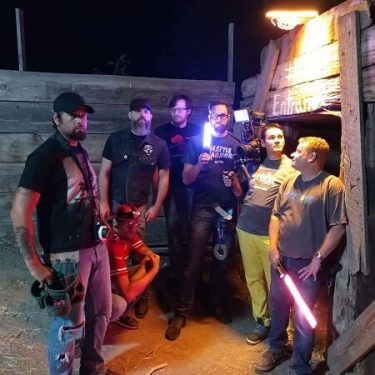 [break side="left"]
You shot your entire feature film, Into the Haunt, in just 16 days. How'd the shoot go?
[break side="left"] "Little by little in any horror movie, it starts out, you know, mild and then it just keeps building to this horrific event…[so] I wanted to shoot completely in sequence because, especially in a horror movie, little by little things tend to get worse.
[break side="left"] Our first day of shooting was at a motel, and everyone was kind of awkward…From the cinematographer to myself, to the sound guy to the grip workers to the actors, nobody really knew each other that well. So we got that out of the way. Then we filmed at the gas station. Then from there we ended up going "into the haunt," into this haunted attraction. That's when it really started to get fun, because now we were surrounded by all these giant props and spooky things, and it was just amazing. And it was day three, so we were all getting comfortable with each other and laughing together."
[break side="left"]
Bayou and Daniel also helped you make a crucial decision in hiring your cinematographer.
[break side="left"]"I met with a [cinematographer] around here, and she works for HP, and she had a lot of very nice equipment and everything, and I was really impressed with her and I met with her in person. We got together and talked about the project, and she said it was something she'd really want to do… then at the very end of it, she wrote her fee, and she said, 'I'm looking at $100 an hour for this shoot,' and I about fell over…I told Daniel and he said, 'That's insane.' That's like Disney production type of dollars.'
[break side="left"] If I didn't have [Daniel and Bayou], I would just assume that that was the going rate and that I would just have to have some way to come up with almost $10,000 to pay somebody for 10 days. So yeah, without them to let me know that that's not a good route to take, I don't know where…We probably wouldn't even have been able to make the film. So that was just a huge blessing…
[break side="left"] It was amazing to go about this process with them in my back pocket, and any issues I ran into I would call them about and they would help me out. I mean, what else do you need, really, than that kind of mentorship? It was pretty phenomenal."
[break side="left"]
Where are you at now with Into the Haunt?
[break side="left"]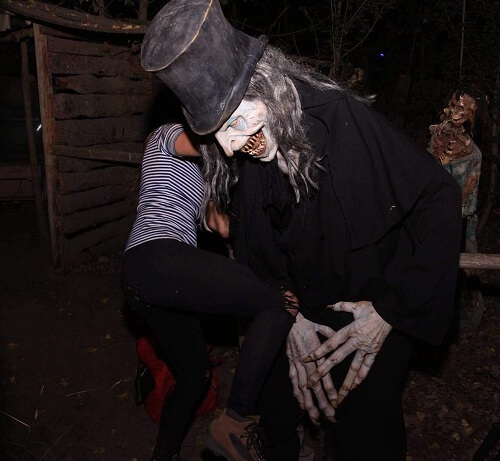 "We're in the editing process as we speak. I'm working with an editor. I'll go over there to check on it and we'll do some things together…He's sending me the finished work that he's getting done for the rough cut, and we're going from there."
What's your advice for Film Connection students on how they can make the most of the program?
"Don't be afraid to be unique and don't be afraid to just go after it…I haven't worried one thing about this production. I haven't worried once about it and I'm not going to start now. Even though it came within about a week and a half of our first day of shooting and I didn't have a cinematographer and I didn't have a camera, I was like, I'm not worried…With the guidance of the great mentors that Film Connection provides, and the right drive and determination and faith in yourself, you cannot go wrong with the results."
[break] Learn more about Film Connection's programs and workshops in film.
[break]