Film Connection mentor Christine Chen talks SXSW, the Duplass Brothers, 360 cameras, Women in Film, and more!
Latest posts by Liya Swift
(see all)
Film Connection mentor Christine Chen (of Moth to Flame Films in Austin, TX) is always a pleasure to talk to. We interviewed her right after SXSW in Austin about this time last year, and since she's typically heavily involved in the film component of the festival, we decided to check in with her again this year. As usual, she ended up offering some key insights, advice and observations that would benefit many of our students, so we decided to mine the best nuggets of that conversation and share them with you! Enjoy.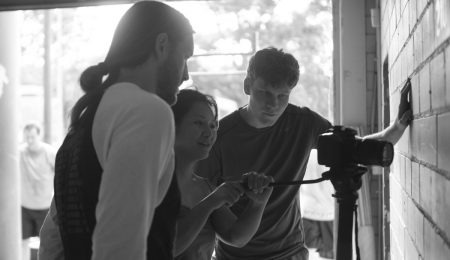 HER THOUGHTS AFTER ATTENDING THE DUPLASS BROTHERS SESSION (THE SKELETON TWINS, HBO'S TOGETHERNESS) AT SXSW:
"I love listening to them talk because they, in my opinion, embody the spirit of indie films, which is [to] make it work with what you have. And I think that's something that some schools don't exactly teach you all the time, but I think if you've been on a lot of sets…you'll really learn that. Anybody can make a film if you can make it work or be creative about it, I think…They're very much the whole, 'Hey, we have a camera. It's not the best camera, but it's in the storyline. Let's make something work.' And it's really worked for them."

ON THE IMPORTANCE OF ATTENDING EVENTS LIKE SXSW, AND HER ADVICE FOR GETTING THE MOST OUT OF THEM:
"If I could encourage anybody going to South By to take advantage of South By would be to listen to these keynote speakers who have had a lot of experience…I love hearing that they all started somewhere. It's inspiring to go listen to that. Another takeaway of going to South By is to familiarize yourself with the latest technology that's coming out. The first year I ever went to South By, the DSLRs were just coming out, so I went and sat on a lot of panels about DSLR filmmaking. And that's how I figured out what to buy, what to invest in, why DSLRs are great…I think that's the great thing about South By is they try to stay as relevant to what's going on in terms of technology, or movies that are coming out, etc."

HER ADVICE FOR STUDENTS ON NETWORKING AT FILM FESTIVALS AND EVENTS:
"What I like to do is always go in with your business card, even though you don't know who you're going to meet or if you're going to meet anybody. If you're talking to a personal filmmaker who has a company, probably your resume, or a link to your reel, or something like that. Just have that on you all the time. And volunteering, honestly, is a great way to go. I can afford a ticket, but I always try to volunteer because that's a great way to force myself and meet people. If you're doing stuff on a volunteer gig for eight plus hours, you're going to talk to somebody because that's just work.

"I [also] think a good line would be asking someone else what they do. People love to talk about themselves. So if you're not comfortable talking about yourself, first, be curious about what other people are doing."

ON THE EMERGENCE OF 360 CAMERAS AND VIRTUAL REALITY FILMING AS A TREND:
"At the South By trade show, there was a camera that they had that we ended up purchasing called a Ricoh Theta…We got it, and we're going to play around with it and see what kind of content we're creating. The great thing of staying ahead of technology is there's not a lot of people in that space, and they're hungry for content. Everybody's looking for the next cool thing. Definitely, I really think that virtual reality is probably where that's going."

BRAGGING ON ONE OF HER STUDENTS…:
"I have an alumni…Kenny Horton, who I was really impressed by. Great editor, was proficient in editing but was really dependable, very good…I noticed that he had a decent following when he followed me on Instagram, and I was like, 'How does this person have like 3,000 followers?' And just noticed that he was really big on BMXing, and I just started talking to him about it. And the competition for NBC Sports came up, and we just worked together to make a mini-documentary. It's not released yet. It was really neat to see how that played into his hobby plus filmmaking combined together."

ON THE CURRENT SHIFT IN FOCUS TOWARD FEMALE FILMMAKERS:
"Sometimes people need a fad to care, which sucks, But that's how it is…I guess now it's a fad to hire or consider female directors, Whether it's giving them tax incentives or whatever…Partially, it is a little bit ridiculous that it's like now that people are all like, 'Oh my God, females make films that are necessary to the economy.' But, you know, I guess it hasn't really been that long since women had any sort of say in anything…I'm part of a group called Film Fatales. It's a chapter that I believe it had its start in LA or New York and now has spread internationally as well. There's a chapter in Austin. But basically, it's just women filmmakers who come together, and we talk about other female filmmaker projects. We have meetups and talk about female-oriented projects and everything…So I'm glad that, luckily for the most part, females have a very good, supportive emotional network, I think. So I'm hoping that this movement will get Hollywood to listen. But honestly, I know it's probably going to start in the indie world first before Hollywood cares, because it is their world, and it comes down to definitely economics and money, and until there's a proven revenue stream that women filmmakers are making movies that make money, apparently, will Hollywood really care."