DALLAS FILM STUDENT'S DREAMS QUICKLY BECOMING REALITY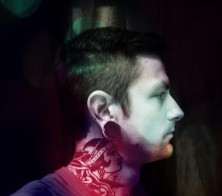 A few months ago, Tyler Sloan was watching Youtube videos, using PVC piping to build homemade film equipment and shooting homemade film videos. Fast-forward a couple months and he is directing film videos for local rap artists and rock bands.
Tyler, has combined his own hard work and creative ability with the connections and one on one education the Film Connection provides to quickly made his dreams become reality.
"Being able to work one on one with my mentor has been an amazing experience," Sloan said in a recent interview, recounting the notable local artist he's been able to work with, which include Pilar Sander, ex-wife of NFL star Deion Sanders.
Tyler, who came in with talent and potential, showed how initiative and hard work pay off in the program. Tyler's mentor, Jason Van Sickel of Black Olive Media, has opened the door for Tyler to not only learn theoretical concepts, but to learn in field, hands-on in real world projects.
"I'm getting full creative range on all the projects," Tyler said. "My mentor is giving me full access to all of his equipment, so I'm producing higher quality videos now than I ever have. I'm also getting my hands on new cameras and lenses as well as new gear I haven't used before, so I'm excelling on my style as a film maker really quick
Not only has Tyler been able to expedite his education, he's even able to helm entire projects.
"We are also working on a film video for a rock band called Isle of Metropolis this coming Tuesday and I will be directing, shooting and editing the video." Tyler said.
One of the most beneficial aspects of Tyler's learning experience comes from the practical side of filmmaking as well – something that can be an afterthought for filmmakers who dream of framing the shot and dealing with actors; financing a film.
The young filmmaker described his involvement in budgeting for shoots "from renting the gear, to paying the crew,". But despite the responsibility bestowed on him, Tyler still has the safety net of having a professional, experienced director there to help him learn from any errors that are bound to occur.
"He's not there holding my hand – he is there to watch me make mistakes." Tyler explained, "He's there to give me advice on how to fix them so in the future l will be able to keep from making these mistakes on bigger projects."
Moving forward, Tyler will been working on his feature length script titled Summer of Cheese as well as refining his own style. And now Tyler's goals that had once seemed like a dream have become a very feasible reality.
"I plan on pushing the film videos until I'm on a level where I'm working with celebrity artists' on their visual projects," Tyler said. "And just continue to build my story telling skills up as well as my style as a director."