Film Connection mentor Steve Carmichael Updates Us on Past Students & Deon Taylor's Q&A!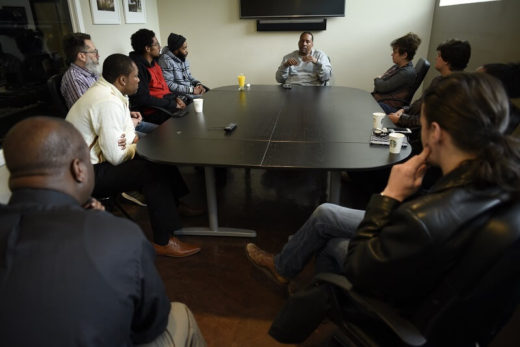 An expert in commercial film production,
Film Connection
mentor Steve Carmichael has played a key role in mentoring a number of aspiring filmmakers in the Atlanta area, many of whom have gone on to build great careers for themselves.
[break] Currently based out of RITE Media Group, Steve is known for going the distance for our students, and encouraging them to connect with the pros they encounter and make the most of opportunity every chance they get.
[break] When we recently asked Steve to host filmmaker Deon Taylor (
Supremacy
,
Meet the Blacks
). Known for involving students in lots of learning opportunities, Steve was glad to be able to help a number of RRFC students broaden their scope in a long Q&A with the film writer/director/producer who had a lot of insights to share as an entrepreneur filmmaker who's actively making the movies he wants to make.
[break] We connected with Steve to hear how the Q&A went and to touch base on what a couple of Steve's past externs are up to now.
[break]
ON DEON TAYLOR AND THE KNOWLEDGE HE SHARED WITH OUR STUDENTS.
[break side="left"] Steve recognized the tremendous value Deon Taylor brought to our students as he shared his entrepreneurial approach to getting movies made.
[break side="left"] Deon spent more than two and a half hours talking with our students, and answering their questions. Speaking of the experience Steve says, "There was a lot of back and forth between them…He is very open to sharing what he knows with students. Among the things that surprised me the most was the emphasis that this is not
how
you make a movie it's
how you get a movie made
. That's what the conversation was about.
[break side="left"] Deon encouraged students to mine their own lives and cultural backgrounds for material they can bring to life and use to better position themselves in the industry. For the self-made filmmaker, finding topics that resonate with him strongly serves as an inner compass which helps guide him towards making sound choices about the projects he chooses to bring to light. The inner compass all creatives possess should inform the projects they helm as well as the ones they go after as collaborators and members of the crew. In doing so, they'll intrinsically possess real value they can bring to a project, something they can use to further bolster their careers.
[break]
ON WHAT FILM CONNECTION GRADUATE STEVEN C. PITTS IS DOING NOW.
[break]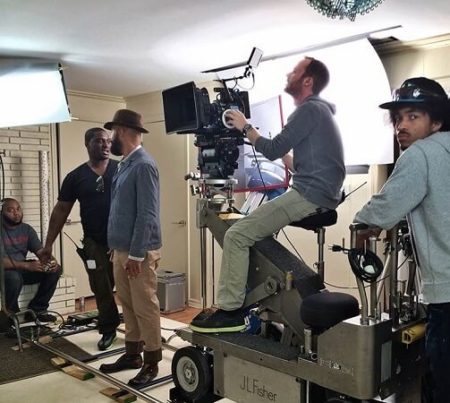 We recently heard a rumor that Steve Pitts was working another big project, and so we decided to ask Steve Carmichael if he'd recently heard from his former extern, who, in the years since graduating, has built a nice career for himself. Turns out, the two had recently been in touch.
[break side="left"] He called me about two months ago and he was kind of whispering "This is Steve Pitts," and he said in a quiet voice, "Guess where I am?" I said "I don't know." He said, "I'm on break on the set of First Man."
[break side="left"] Staring Ryan Gosling and Claire Foy, First Man is the highly anticipated film which focuses on the life of Neil Armstrong and the legendary space mission which led to him becoming the first man to walk on the moon.
[break side="left"] In the years since graduating Film Connection Steven C. Pitts, (IMDb) has gone on to build an exciting career in film as an assistant director, camera operator, cinematographer, and special effects person on numerous films, film videos, and commercials.
[break side="left"]
ON RECENT FILM CONNECTION GRADUATE JASON REINHARDT & WHAT HE DID RIGHT.  
[break]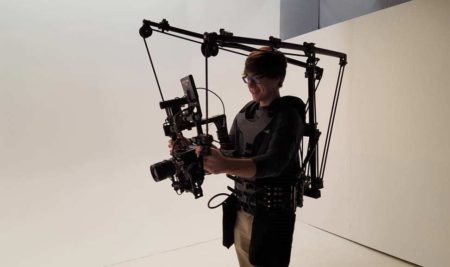 Just prior to Jason signing up with Film Connection, Steve reached out to him with an invite to attend a camera workshop, hosted at a local camera shop and rental company and which happens to be owned by a very well-known camera man who, Steve says, "has got a bunch of movie slates on the wall inside his studio of the movies he's worked on. A lot of them have Spielberg on there as the director, so this guy's like a major, major camera guy."
[break side="left"] Jason showed up to the workshop, parents in tow, and took an active part in trying the gear and learning how it works. When it came to getting started he didn't waste a moment's time. Despite the fact that the two were already scheduled to have their interview the following week, Steve says Jason approached him then and there and asked, "'Do you think afterwards we could interview somewhere?'"
[break side="left"] During his time in the program Jason not only played a proactive role in growing his filmmaking knowhow, he also made it a point to connect with the pros he encountered, including the well-known camera operator and a friend of Steve's named Caiti Maloney who had previously worked on The Walking Dead. Learn more about Jason's experiences.
[break side="left"] Prior to graduating, the connections Jason made led to him getting hired on numerous projects and commercial shoots, including a job as a PA on Ant Man 2, and just after graduating, the box office breaker Black Panther!
[break] So what did Jason do right?
[break] Steve's response is surprising, "He took notes. While it's true that one of the things we're fighting here are people's negative experiences in traditional schools where they have to take notes and log around all these books and that sort of thing but say, we're getting ready to at an interview with screenwriter talking about the 12 major parts of a dramatic narrative. And, if you think you can remember that's fine but otherwise here's a piece of paper and sometimes they'll write it down. But he wrote stuff down. And he's a very pleasant young man who's not afraid to ask about stuff."
[break] ON FINDING WHAT YOU WANT TO DO AND GOING AFTER IT.
[break] Steve encourages people interested in working in film and TV to get informed about how the industry, or any field their considering entering into actually works:
[break] "So many negative impressions are planted in a young person's mind or played out especially by parents or the relatives. 'Oh my God the poor thing is going to starve to death!' Their fear has no basis in reality at all. My dad was very nervous [too]."
[break] Ultimately, Steve believes one has to dig deep and get honest about the things that interest them, while remaining grounded and curious to learn more.
[break] "It's a lot like what Deon Taylor talked about. I ask so many people 'What is it you want to do?' And they don't know. For me, that place that tells me what I want to do is somewhere in my chest. I can't verify an organ, might be my heart. When you hear a message about something that appeals to you that you could never imagine yourself doing. Then ask yourself the question, 'What would be involved in that?'
[break] You can't live the life that somebody else thinks you should live and you don't have to have some big dramatic family to blow up over it. But you do have to face your fears and you have to have to believe in yourself that you can do it."
[break]