Miami, Florida
Apply Now
The Film Connection is where it all starts. We help make your dreams happen.
Fill out the information below and we'll be in touch:
MIAMI FILM SCHOOL
Your Miami Film School Alternative
The Miami Film Connection Film School Advantage
1) Lots of Locations.
The Film Connection has world-class film school locations all over the United States, including here in Miami. Your path to Hollywood starts right here! No need to relocate to New York or L.A. to go to film school—unless, of course, you want to, because we have locations there, too!
Learn near where you live. Advantage: Film Connection.
2) Stay Out of Debt with Low Tuition.
Make no mistake: student debt can kill your film career before it starts. Most film schools are so expensive that it's impossible to attend without taking on tons of debt. Not us. Our tuition is kept low so you can graduate with little or no debt.
Other schools not only cost more, they have lots of add-on charges. Advantage: Film Connection.
3) Learn Film On-the-Job.
Films aren't made in classrooms, so why would you go to film school there? Our mentor-apprentice (extern) approach places you in the heart of the action, inside a real film production company, where your classes take place on-the-job and on the set.
Real-world experience, not useless theoretical classroom instruction. Advantage: Film Connection.
4) Learn From a Real Film Professional, One-on-One.
The best person to teach you to direct films is a real director; the best person to teach you to edit film is a real film editor; and so on, and so forth. We don't stick you in a class with a full-time professor; we pair you with a working film pro in your chosen field of interest, and this pro will mentor and teach you one-on-one.
One teacher to one student. Advantage: Film Connection.
5) Hundreds of Professional Endorsements.
We're endorsed by some of the biggest names in film, including Oliver Stone, David Lynch, Hans Zimmer, and hundreds of others. Yes, hundreds. Why do they endorse us? Because our program works!
More professional endorsements than any other film school. Advantage: Film Connection.
Apply Now
6) Real Job Placement Assistance.
When it comes to job placement assistance, the Miami Film Connection takes a more active role than any other film school. When you graduate, you'll be enrolled in our Stay Connected Program for 12 months of active job placement help. We do all we can to find you work in this industry.
"Job placement" at other schools means handing you a cold-call lead list when you graduate. Advantage: Film Connection.
7) Starting On the Inside
The biggest struggle for film school graduates is getting "in the door"—getting noticed, getting on the inside. That struggle doesn't exist with the Film Connection because from the very first day of your training, you're placed INSIDE a real film company as an apprentice (extern). You're in the door before you learn a thing! And by the time you graduate, you're already well established.
The other guys are on the outside, looking in. Advantage: Film Connection.
8) Unlimited Free Tutoring.
With the Film Connection, you're never alone with a problem. We offer free, unlimited tutoring to all our students.
Unlimited free tutoring. Advantage: Film Connection.
9) Lots of Industry Connections.
No matter how skilled you are, you won't get anywhere in this business without connections. One of the best features of our mentor-apprentice (extern) approach is that our real-world training puts you in the midst of lots of industry pros whom you could never meet in a classroom. These are the people who can one day hire you—and you have your entire apprenticeship (externship) to befriend them and impress them.
Real world film industry connections. Big Advantage: Film Connection.
10) From Miami to Hollywood…
You'll find plenty to keep you busy in the Miami film scene, but if you want more…we've got more. In a move unprecedented for film schools, we've structured our curriculum to guide you step-by-step through the process of developing your own film idea, and when you graduate, we'll arrange for you to meet with REAL INUDSTRY EXECUTIVES in Los Angeles to PITCH YOUR FILM!
A real chance to break into Hollywood. Big Advantage: Film Connection. NO OTHER FILM SCHOOL DOES THIS.
Apply Now
Your MIAMI, FLORIDA FILM SCHOOL ALTERNATIVE
Thinking about Miami Film Schools in sunny south Florida? Look no further! Only one Miami Film School gets you inside an actual Miami film production company, working as a film student apprentice (extern) as you learn producing, editing, directing and more. Make no mistake, in Miami, the smartest way to break into the film business is by working inside a Miami film production company as a film apprentice (extern). That's exactly what the FILM CONNECTION can do for you.
Typical film schools easily cost upwards of 50 thousand dollars to attend. Why spend that kind of money when you could go to film school in a real production company for far less? You'll learn from the pros, and while you get your education, you'll also make vital industry connections. Our film school alternative is the smartest, most cost efficient way to go.
To APPLY for our Miami Film School, click here.
Located along Florida's southeast coast MIAMI, FLORIDA is home to over half a million people, while the surrounding Miami-Ft. Lauderdale area is home to over 5.5 million. Known for its diversity of Latin influences, its popular beaches and its thriving dance club scene, Miami is also home to a vibrant film scene, with multiple film festivals year-round, and local production resources in constant demand. Miami has been home to major actors such as David Caruso, William H. Macy, Sidney Poitier, Eva Mendes and Philip Michael Thomas, as well as film directors Ondi Timoner and Brett Ratner. In addition, Miami is hailed as a popular spot for location filming for major film and TV productions. Just look at this partial list of major productions shot on location in and around Miami:
Bad Boys (I and II)
True Lies
The Birdcage
Miami Vice (TV series)
Dexter (TV series)
Ace Ventura: Pet Detective
Pain and Gain
Step Up Revolution
Meet the Fockers
There's Something About Mary
Analyze This
Marley and Me
Needless to say, if you want to be a film director, film producer, screenwriter, film editor or cinematographer, you'll find plenty of opportunities to connect to the industry here in Miami—and the FILM CONNECTION puts you closer to the action than any other film school can.
Our mentor-apprentice (extern) approach is the key. We don't stick you in a college classroom—in fact, you won't spend a single day in a classroom with our program. Instead, from day one until you graduate, you'll be working as an apprentice (extern) in a real Miami film production company, taught one-on-one by a working film professional with years of experience and lots of connections. As you learn on-the-job and on the set, you'll make plenty of connections with other professionals—connections that usually lead to future work. Your path to Hollywood starts here! Apply today, and let the Miami FILM CONNECTION get you on the path to your dreams.
Current Miami, FL Student News
Film Connection grad Rocky Shores receives shared credit for a film with his Miami-based mentor, film makes the festival rounds!

It was the word "Connection" in our name that first drew Rocky Shores to enroll in the Film Connection in Miami, FL. After already doing some video work for clients and finding himself on-set as an extra in the Robert Redford film The Conspirator, if there's one thing Rocky understands, it's the importance of connections. He recalls what he heard on set:
"One thing that everyone I spoke to kept saying—the one word I kept hearing was 'connections,'" says Rocky. "It's a business. You need to know people, and make connections and contacts…The reason I chose the Film Connection was because of that word."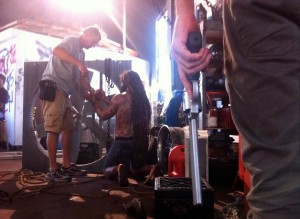 Rocky began apprenticing with filmmaker and Film Connection mentor Kevin Sharpley of Kijik Multimedia in Miami, Florida. Instantly they formed a solid connection, and Kevin began teaching him the ropes by involving him heavily in a documentary about a Haitian dance troupe, a film project called Ayikodans Rise. As they went along, Kevin was particularly struck by Rocky's eye for the camera.
"[Kevin] shot some raw footage, and I went out and shot the rest of it with him," Rocky says. "He gave me a big chunk of footage, and I think he was expecting about a three to five minute piece. Well, I'd frame him a 15-minute piece, and it floored him…He said I was a storyteller."
By the time the film was completed, Rocky had received shared credit on the film—and now it's hitting the film festival circuit! Ayikodans Rise showed at the Fort Meyers Beach Film Festival in April, and in June at the Miami Filmmaker Shorts festival. Congratulations, Rocky!
Now a Film Connection graduate, Rocky remains in close touch with his mentor, who still utilizes him on projects and is hoping to bring him on full paid staff. He's also working on his screenwriting with a long-term goal of becoming a writer-director. Understanding the importance of connections in the film business is what helped him connect with Kevin—and he knows it's also what will carry him through his career. "You can't be in your shell if you're going to be in this industry," says Rocky. You need to be personable, you need to talk to people, and you need to work hard, and you need to be patient."
Learn More
Apply Now
The Film Connection is where it all starts. We help make your dreams happen.
Fill out the information below and we'll be in touch: