The Film Connection Program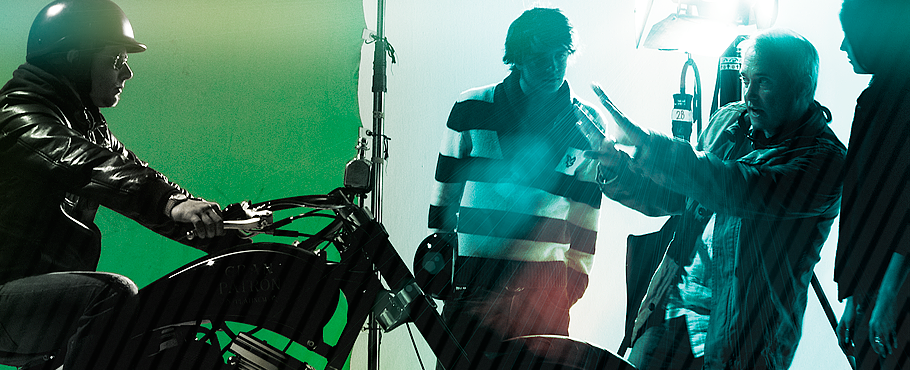 The Film Connection's course description is simple. It's way simple.
It's you.
Well, maybe that was too simple. The course is tailored to what you want to do. It's made so that you learn about and get experience in the area of film production that you're most interested in.
Are you one of those people who carries around a notebook filled with ideas for stories? Were you pissed when they rebooted your favorite movie franchise because you thought that there were still stories to be told? Do you have the best Friday The 13th sequel ever just knocking around in your head?
Well, that's what we're here for. We want to help you put those ideas on screen. We want you to make the movie that's in your head.
It's really simple. You'll be taking that big idea that you've been thinking about and fine-tuning for as long as you can remember and actually be making it.
We will guide you through the creative process by teaming you up with a Technical Mentor (who lives near you and can teach you the ins and outs of the filmmaking world), a Dream Mentor (someone that is already working at exactly what you want to be doing), a Hollywood Screenwriter (to help you write a polished script), and an Editor to assist you in producing your finished scenes.
By the time you complete our course you'll have completed a feature length script, developed a KILLER pitch, produced, casted and directed a scene from your screenplay, created a SIZZLE REEL, and pitched your idea to a real live Hollywood professional!
But you know what the best part is? The conclusion of our program has you in a room with an executive who could actually greenlight your project. I know. It sounds crazy, right?
Well, it is.
Crazy Awesome.
Success Stories from Our Students
"Since a very young age, film has always been a significant part of my life. Movie night with my father during the weekends was something I always looked forward too. Watching "The Terminator" for the first time left me mesmerized. It also left me with many questions such as, "how did they make this?" "How did they create such a futuristic world, without even knowing what the future would look like?" These questions were the start to my dream of being a Film
director. As I got older, I fell in love with camera movement. I loved the idea of setting mood with lighting. There's no comparison to the feeling of writing a story, then creating it on the screen. When you can set a mood on the screen and watch an audience react to it, in the way you did when you first wrote it, nothing beats it! My dream and motivation led me to pursue a career in the film industry. I wanted to learn gripology, camera angles, and most of all directing."
- Anthony Puglia. Orangeburg, NY
---
"… I wanted to be a part of the magic I saw on the big screen. I always had an interest in pictures, I actually graduated with honors in high school for photography. I finally was exposed to film production when I took a community college class on editing as a elective. I found that experience fun and thats when my interest started to grow. Finally after seeing a giant summer block buster movie in the theatre one day I decided that making movies was what I wanted to do for the rest of my life. The feelings of adventure and fun I had after leaving the show was something that I wanted to help create for future movie goers. At this point I wanted to learn everything I could about the movie making process."
- Anthony Nocerino, Westminster, CA.
---
"When I first started with The Film Connection, I was interested in directing. However, as I spent my time watching, learning, and working with my mentor, I found myself drawn to the post production part of the art. From then on, video editing really became an escape for me. I had the power to create a story without confined or limited view points to be shared with the world. After I realized my passion for editing, I wanted to learn everything there was to learn about it. It was so intriguing to find ways to share what was in my head with the viewers on screen. While working in the studio, editing became my daily job for (my mentor's studio) and really opened up my eyes to the possibilities and different ways i could visually shock the viewers through the editing while sharing a story. I wanted to learn more about after effects, green screen, color correction, and all of the many ways you can take a shot and really make it compelling!"
- Catura Jenson, Sandy, UT
---
"The whole time I was in the studio I wanted to either keep filming or keep editing, and on those slow days I found myself craving more. Each time I received something to edit I wanted to make it perfect, from each transition, each clip length, and the audio. They would always say to have a quick turn around on the videos so there was a fine balance and a keen eye required to make a great video while not spending too long on the little details. In the studio I never felt more at home and comfortable. Everything about it from setting up to breaking down a whole set does not seem old to me, but rather new and exciting each time for what the end product would yield. I personally learned a lot about video production while at the studio but my personal goal is to take it to the next step and learn more about a feature film production. In commercial video there is not as much use for all the shot styles as there are in movie or film productions so as much as I love filming anything I have learned my personal favorites would be in expressing emotion and feeling with my video rather then a product."
- Robert Forteza, Westchester, PA
---
"I'm so excited, I'm really achieving my goals. The Film Connection has given me a lot. Giving me the chance to work with feature-film director, Sam and I really have learned a lot from him. He's letting me work by his side which has taught me a lot… He always allows for hands-on training, he works with me a lot to keep me on the top notch as a filmmaker. We have a lot of communication with all of his producers, we've had a couple of director meetings about four weeks ago. We are looking forward to another one which might be coming up in august. And in september we will be flying to Los Angeles because we have to meet with one of the actors who works in Hollywood. He will be one of our actors in 'Live Free OR Die'."
- Nihad Shalabi, New York, NY
Navigate