Film Connection mentor Sean McCarthy offers students real-world experience on award-winning webseries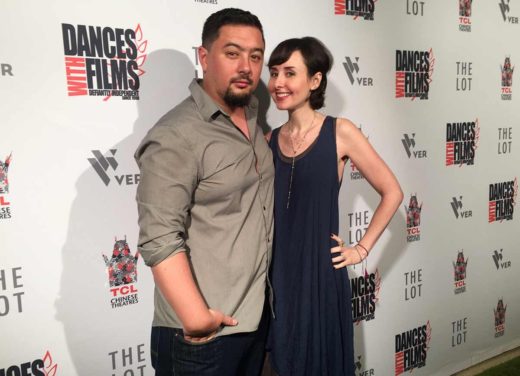 As the founder/owner of Guerilla Wanderers, a full-service production house in the San Francisco Bay Area, Film Connection mentor Sean McCarthy maintains a huge roster of projects that includes films, film videos, commercials, animation/visual FX and more. As such, Sean is able to provide plenty of real-world opportunities for his Film Connection students to learn hands-on—most recently so on his studio's current pet project, a comedy called Doucheaholics! Episodes 3 and 4 of the webseries premiered at the Dances With Films Festival, at the historic TCL Chinese Theaters on Hollywood and Highland and nabbed the Audience Choice Award for Best Web Series! A number of our Film Connection students were involved in the making of the comedic series and were on hand to celebrate.
[break side="left"] "Doucheaholics is a comedy series that I co-created with Elizabeth Mitchell, who's a producing partner and the head of creative development," Sean explains. "We put this series together with our Guerrilla Wanderers team, which is Dustin Strocchia and Kevin Loader, and we have a lot of people on our Wanderers team, including people who've come in through the mentorship program…We've shot six episodes for the first season and we're already shooting episodes for the second season, and so we have students working on everything from pre-production and development before we shoot. We have students on set during production, then we have them on post-production and everything from post-production to working on episodes themselves to working on the promos, really giving everyone a hands-on experience."
[break side="left"]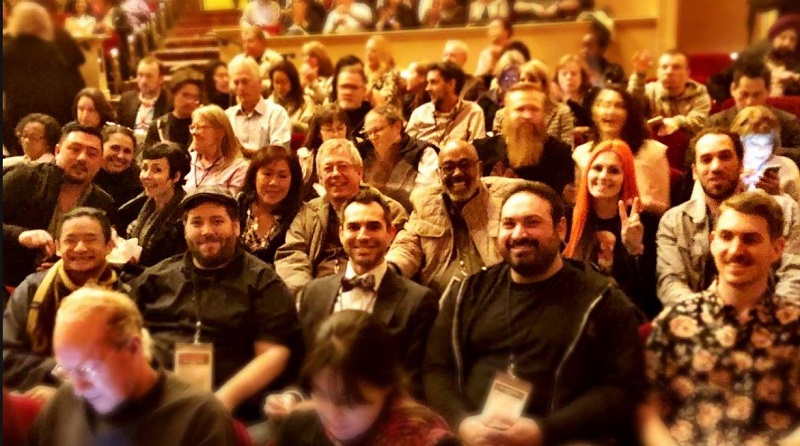 Talking with Sean, you can easily pick up his passion for helping students grow, and that for him, involving students on his project isn't just about filling out the crew. He has a genuine interest in identifying the strengths and interests of each Film Connection extern and tailoring the experience and training they receive to fit each student's particular goals, interests, and talents. Sean gives several examples:
[break side="left"] "Ruben Dayao, who's a phenomenal student, was with us for the last year," he says. "When he first started, he had very little editing experience, and he actually had—I hope he wouldn't mind me saying this, but he had a bad experience with another film school or program, and he left that film program to come to the Film Connection. Then we sat down, we went over his goals…His main focus is editing…I've had him on set in other positions so that he can gain perspective and insight to grow as an editor.
[break side="left"] Then another student like Eric Whitehead, who's been with us a shorter period of time, he went to UCLA for acting and he had a whole career as a professional actor and as a filmmaker himself, and he just wanted more growth…I look at his needs different than someone like Vi Bui, who's 18 and just trying to get experience, and he's a very talented, smart kid, but he's in a different place than Eric. So instead of just a general class where people would sit down with us and [we] go, 'All right, let me just teach everyone what a close-up is,' I look at each person and go, 'Where are you at, how can we grow you, and how can we attach you to real-time projects?'"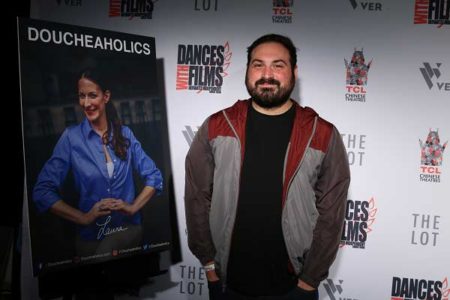 [break side="left"] It's a teaching approach that's not without risk—placing inexperienced students in roles of responsibility on a project. But in Sean's mind, there's no better way to learn and grow.
[break side="left"] "Knowing what [the students] want and need," he says, "and then pushing them to grow, obviously there is going to be an experience of, 'I've never done this before,' or, 'This is new to me.' So they're pushing themselves. I say, if you're feeling a little frustration or if you're feeling a little stressed, that's good…You're going to be definitely stressed, and you're probably going to be intellectually and emotionally tired because you're pushing yourself to areas you've never gone to before. But that's how you grow."
[break side="left"] Of course, the payoff for Sean is watching students break through. "It's a beautiful thing when you see people who are trapped in something and they're really talented, really smart, and you see them unlock," he says. "I think that's a key thing as a graduate, to be free and unlocked, and now not just be the inexperienced child, but…have the experience and awareness of an adult who's gone through a variety of professional experiences and grown their craft…Someone like Alex [Geranios], who started with us as a PA on episode 2, and worked his way up to script supervisor and assistant editor by episode 5. So it's really cool to see that evolve over time."
[break side="left"] Sean also says he loves the unexpected surprises that come from involving students on the set.
[break side="left"] "There's so much DNA from all the people, all the great creative artists, actors, and filmmakers that are involved in the show," he says "and there's a large portion of Film Connection students that we tried to get involved in this too…It's almost like jazz. There's an element of planning, from the writing to the shooting to the editing, there are a lot of planned out things, but there's also an element of, 'Oh, we need a person for this. They can fit this.' Alex is actually in
Doucheaholics
. He has a small role. Eric, I talked to him about getting him into little cameos and things like that…You just never know where this is going to go. You don't know if they're going to end up behind the camera, in front of the camera…As these relationships grow and you start to learn people's skillsets and talents even more, you start to work with them in different ways. So there's a lot of surprises and you never know where this can lead."
[break]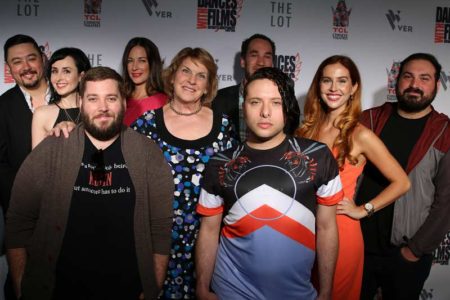 For Sean, the relationship with the student doesn't necessarily end at graduation, either; he sees them as potential long-term teammates. "I really enjoy working with Eric," he says as an example. "So even when he's done with the Film Connection, he's someone that I think of that I would like to collaborate with in the future.
[break side="right"] What I like about having a longer term mentorship with a student is we're able to build trust," he continues. "And just like any kind of relationship, you get to see people at their best and worst, and you get to give them opportunities when you see it's the right opportunity for them."
[break] Learn more about Film Connection's in-industry programs.