The Film Connection Program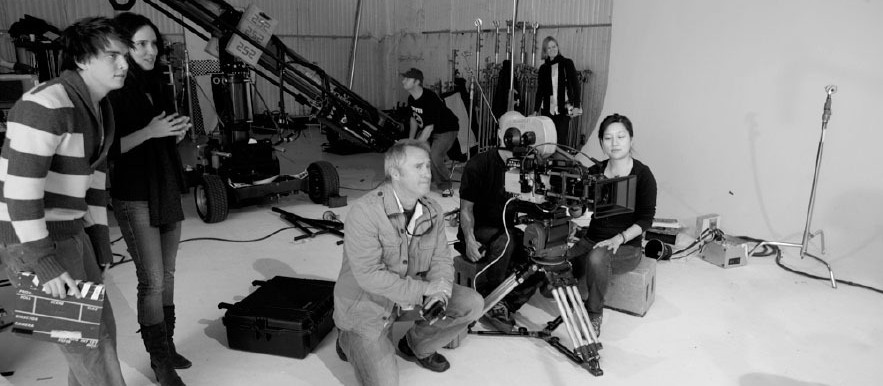 1
LEARN WHERE YOU LIVE
The Film Connection Film School is located in nearly every city in the U.S. We place you in an established film production company where you will be paired with a professional filmmaker who will teach you the technical aspects of directing, cinematography, editing, and more while serving as your local mentor. This "on-the-job" training approach gives you the connections, insider access, and hands on experience you need to succeed in the film business.
2
DEVELOP YOUR BEST MOVIE IDEA INTO A PITCH, TREATMENT, OR SCREENPLAY
Have you ever had an idea for a film or TV show that you've been dying to make, but didn't know where to start?
In addition to having your local mentor, the Film Connection will also assign you to a famous writer, director, or producer—someone who's movies you've seen and loved. You will work one-on-one with this legend as the two of you develop your best idea into a marketable pitch, treatment, or screenplay.
The Film Connection is the school with the connections to pair you with a working filmmaker who can help you get this movie out of your head and onto the screen. You can choose to develop your best movie, TV show, reality show, or documentary idea to work with.
Remember, it's way simple. It's you.
3
PITCH YOUR MOVIE IDEA IN HOLLYWOOD OR NEW YORK
Upon completion of our program, you will fly out to Los Angeles or New York where we have set up a one-on-one pitch meeting with a major film producer or film executive eager to hear your movie idea. This is the opportunity of a lifetime.
We don't just train you; we put you in a room with the industry giants who have the power to greenlight your idea. This is why we are called the Film Connection.
We like to say we're a revolutionary film school.
Sounds good, but what does that actually mean?
It means we take a new approach to learning the craft of filmmaking, one that's truly different. Instead of being stuck in a classroom, paying tens or even hundreds of thousands of dollars in tuition, room and board, then graduating with a mountain of debt, we take a revolutionary approach. We actually connect you with real working filmmakers close to where you live. You'll be learning the technical aspects of film as you work on real projects making connections. And you'll be doing this for a remarkably low, affordable tuition rate.
We believe to become a truly great filmmaker, you need to practice your craft on professional projects, not learn it from a book or in a lecture hall. We believe the best way to help you get this experience is to place you as an apprentice (extern) among working film professionals working on real projects.
Learning by doing is what the Film Connection is all about.
And then the Film Connection takes your education one step further. As you train in your city, we also pair you with a real filmmaker who helps you develop your best idea for a movie. Working closely with this legend, you will develop a fully fleshed-out pitch, treatment, or screenplay.
Upon graduation, you will fly to Los Angeles or New York to pitch to a real Hollywood producer or film executive with the power to get your movie made.
The Film Connection. It's not just a film school. It's your shot.
Apply Now
Learn More About the Film Connection
Success Stories from Our Students
-
Gordon Maniskas
, Manchester, MA

"The Film Connection game me the means to pursue screenwriting as a career. I learned from professionals, but I would say, that in their own way, they were teachers because they were trying to elevate you."
- Anthony Puglia. Orangeburg, NY
"Since a very young age, film has always been a significant part of my life. Movie night with my father during the weekends was something I always looked forward too. Watching "The Terminator" for the first time left me mesmerized. It also left me with many questions such as, "how did they make this?" "How did they create such a futuristic world, without even knowing what the future would look like?" These questions were the start to my dream of being a Film
director. As I got older, I fell in love with camera movement. I loved the idea of setting mood with lighting. There's no comparison to the feeling of writing a story, then creating it on the screen. When you can set a mood on the screen and watch an audience react to it, in the way you did when you first wrote it, nothing beats it! My dream and motivation led me to pursue a career in the film industry. I wanted to learn gripology, camera angles, and most of all directing."
-
Anthony Nocerino
, Westminster, CA
"... I wanted to be a part of the magic I saw on the big screen. I always had an interest in pictures, I actually graduated with honors in high school for photography. I finally was exposed to film production when I took a community college class on editing as a elective. I found that experience fun and thats when my interest started to grow. Finally after seeing a giant summer block buster movie in the theatre one day I decided that making movies was what I wanted to do for the rest of my life. The feelings of adventure and fun I had after leaving the show was something that I wanted to help create for future movie goers. At this point I wanted to learn everything I could about the movie making process."
-
Catura Jenson
, Sandy, UT
"When I first started with The Film Connection, I was interested in directing. However, as I spent my time watching, learning, and working with my mentor, I found myself drawn to the post production part of the art. From then on, video editing really became an escape for me. I had the power to create a story without confined or limited view points to be shared with the world. After I realized my passion for editing, I wanted to learn everything there was to learn about it. It was so intriguing to find ways to share what was in my head with the viewers on screen. While working in the studio, editing became my daily job for (my mentor's studio) and really opened up my eyes to the possibilities and different ways i could visually shock the viewers through the editing while sharing a story. I wanted to learn more about after effects, green screen, color correction, and all of the many ways you can take a shot and really make it compelling!"
-
Robert Forteza
, Westchester, PA
"The whole time I was in the studio I wanted to either keep filming or keep editing, and on those slow days I found myself craving more. Each time I received something to edit I wanted to make it perfect, from each transition, each clip length, and the audio. They would always say to have a quick turn around on the videos so there was a fine balance and a keen eye required to make a great video while not spending too long on the little details. In the studio I never felt more at home and comfortable. Everything about it from setting up to breaking down a whole set does not seem old to me, but rather new and exciting each time for what the end product would yield. I personally learned a lot about video production while at the studio but my personal goal is to take it to the next step and learn more about a feature film production. In commercial video there is not as much use for all the shot styles as there are in movie or film productions so as much as I love filming anything I have learned my personal favorites would be in expressing emotion and feeling with my video rather then a product."
- Nihad Shalabi, New York, NY
"I'm so excited, I'm really achieving my goals. The Film Connection has given me a lot. Giving me the chance to work with feature-film director, Sam and I really have learned a lot from him. He's letting me work by his side which has taught me a lot... He always allows for hands-on training, he works with me a lot to keep me on the top notch as a filmmaker. We have a lot of communication with all of his producers, we've had a couple of director meetings about four weeks ago. We are looking forward to another one which might be coming up in august. And in september we will be flying to Los Angeles because we have to meet with one of the actors who works in Hollywood. He will be one of our actors in 'Live Free OR Die'."
STRAIGHT TALK ABOUT THE FILM INDUSTRY
Do You Want To Be A Filmmaker?
Filmmaking is an interesting creative process. Some are innately gifted with the knack for storytelling. Some must struggle and work at honing their craft. The Film Connection is constructed in such a way as to enable both types of people. We have a flexible program that enables every type of creative person to really pursue their passions.
The Film Connection's curriculum consist of two halves: the practical and the theoretical. We pair you with a mentor, we place in a production company, and we help you learn how to write and direct short films based on your idea. We also help you write a feature-length screenplay. That's the practical half. The other half is the theoretical side. We help you discern where the works that you want to create fit into your preferred genre. We help you take a walk through film history. We help you learn about all of the greatest filmmakers and actors.
At the end of all this, you'll leave with proof of concept for you film, you'll have a completed screenplay, and you'll have hours and hours of experience under your belt. You'll have everything you need to have down and ready to rock and roll.
Our film school has a grueling curriculum. It also places you within the context of a real working production company. There are very few places that you'll be forced to encounter as much trail-by-fire decision making. We're proud of the fact that we throw you into the deep end and make you sink or swim. That's how the industry works. You want someone who is combat tested by your side. You don't want a rookie attempting to help you. That's why connections and experience are always more valuable than degrees.
In the film world, nobody cares where you get your degree. Nobody really cares if you even have a degree. They just care if you know what you're talking about and if you've done the thing that you're saying you can do before. That's why our school has such a high employment rate. All of our students have worked in the industry and they have connections.
Connections are arguably the most important part of our program. Yes, we help you write a screenplay. Yes, we help you shoot proof of concept. But that doesn't mean anything if you don't have anyone to show it to. This is why the final step of our program is to set up a pitch meeting with a real Hollywood agent. You're going to be there in a room with someone who could potentially buy your idea. Again, we put you in the right place; you just have to find the right time.
Apply Now
The Film Connection is where it all starts. We help make your dreams happen.
Fill out the information below and we'll be in touch: